It's that time of year again where we all look to wrap up warm, pack some treats and brave the cold for those winter walks.
As part of our partnership with the National Trust, we are helping to make the places they care for better equipped and more welcoming for dogs (and their owners!). So, why not head to the coast for some dramatic grey skies and thundering waves, blow away the cobwebs with clifftop walks or follow winding paths through frost-sprinkled parkland and beautiful historic gardens.
Here are just some of the best dog-friendly walks you can look to take this winter and some top tips for keeping your dog safe and comfortable throughout. Broken down by region in the UK, find the one nearest to you!
We have also included a few of TV presenter and explorer Simon Reeve's favourite walks that he has explored with his dogs Obi and Lyla!
South West
Lizard Point: the most southerly walk
Take in the views of the Atlantic Ocean on this walk along Lizard Point, the most southerly place in Britain. One for the wildlife lovers - look out for the distinctive red billed, red legged Cornish Choughs who can be spotted wheeling and diving off the cliffs. Thanks to conservation efforts the birds returned to Cornwall in 2001 after an absence of 30 years and have been there ever since. The isolated coves along this stretch are home to colonies of grey seals too! Beautiful to observe basking in the winter sun, seals are easily scared, especially by dogs, so please do keep a safe distance and don't approach any. Dogs are welcome on leads.
Castle Drogo, Dartmoor
One of Simon Reeve's top dog walks, venture down winding paths leading into the gorge and along the river valley from the castle, or experience the views of the deep gorge and wider Dartmoor landscape from Sharp Tor. With over 1,000 acres for dogs (and their humans) to explore and stretch their legs, whilst taking in the sights, sounds and scenery. Dogs are welcome in the estate and on leads around livestock and in some areas within the grounds of the castle.
Tyntesfield, North Somerset
Just seven miles from the centre of Bristol, Tyntesfield nestles in a tranquil landscape overlooking the Yeo valley. One of the last surviving Victorian estates in the country, the house is a masterpiece of Gothic revival style and its turrets, towers and family chapel take on a special aura in winter thanks to atmospheric mists and frost. The formal terraces in front of the house, the grand topiary-lined walks, the arboretum for rare trees and the intimate rose garden can all be enjoyed with dogs. Dogs are welcome on short leads in parts of the garden and wider estate.
Studland, Dorset
Four miles of beautiful beaches line the sheltered waters of Studland Bay. Backed by heath and dune systems, the beaches stretch from the boundary of the Jurassic Coast World Heritage Site at Old Harry Rocks north to Shell Bay, where a chain ferry provides a link to Poole and Bournemouth. Winter wildlife includes Sanderling dashing along the water's edge and comically following the waves up and down. While just offshore Brent geese are a common sight.
The heathland is home to ticks and adders, so your dog will be safer on the path. Dogs are welcome on short leads.
South East
White Cliffs of Dover, Kent
The views from the White Cliffs of Dover are perpetually changing. When it is gloriously sunny and the sea is calm and smooth as glass you can wander across the cliffs and take in the breath-taking views across the channel, on the clearest of days you may even be able to see the buildings in France. Even when the weather takes a turn for the worse watch as the waves crash over the sea wall.
Please keep your dog under close control and use a lead in and around the car parks and near the unfenced sections of the cliff top.
Cliveden, Buckinghamshire
Positioned on top of chalk cliffs and overlooking the River Thames, Cliveden's magnificent gardens and woodlands offer breathtaking views that have been admired for centuries. Trails criss-cross through miles of woodland and down to the banks of the Thames. Leafless trees provide new viewpoints both down to the river and back towards the Italianate mansion house (now a luxury hotel) and its grand 6-acre Parterre.
Dogs are permitted under close control in the woodlands and on a short lead in all areas of the Cliveden estate except for The Water Garden, Parterre lawn (hotel guests are permitted to take dogs).
Polesden Lacey, Surrey
A country retreat, only four miles from Dorking and junction 9 of the M25, Polesden Lacey has glorious views across the rolling Surrey Hills and acres of countryside to explore. It was home to the famous Edwardian hostess Mrs Greville, who entertained royalty and the celebrities of her time. Mrs Greville was a great lover of dogs. Her servants even sent postcards to Mrs Greville from her dogs while she was travelling. Continuing the tradition, dogs are welcome on short leads in parts of the formal gardens and off lead in the wider estate, where there are four way-marked routes ranging from one and half to four miles. Dogs are welcome on short leads in parts of the garden and wider estate.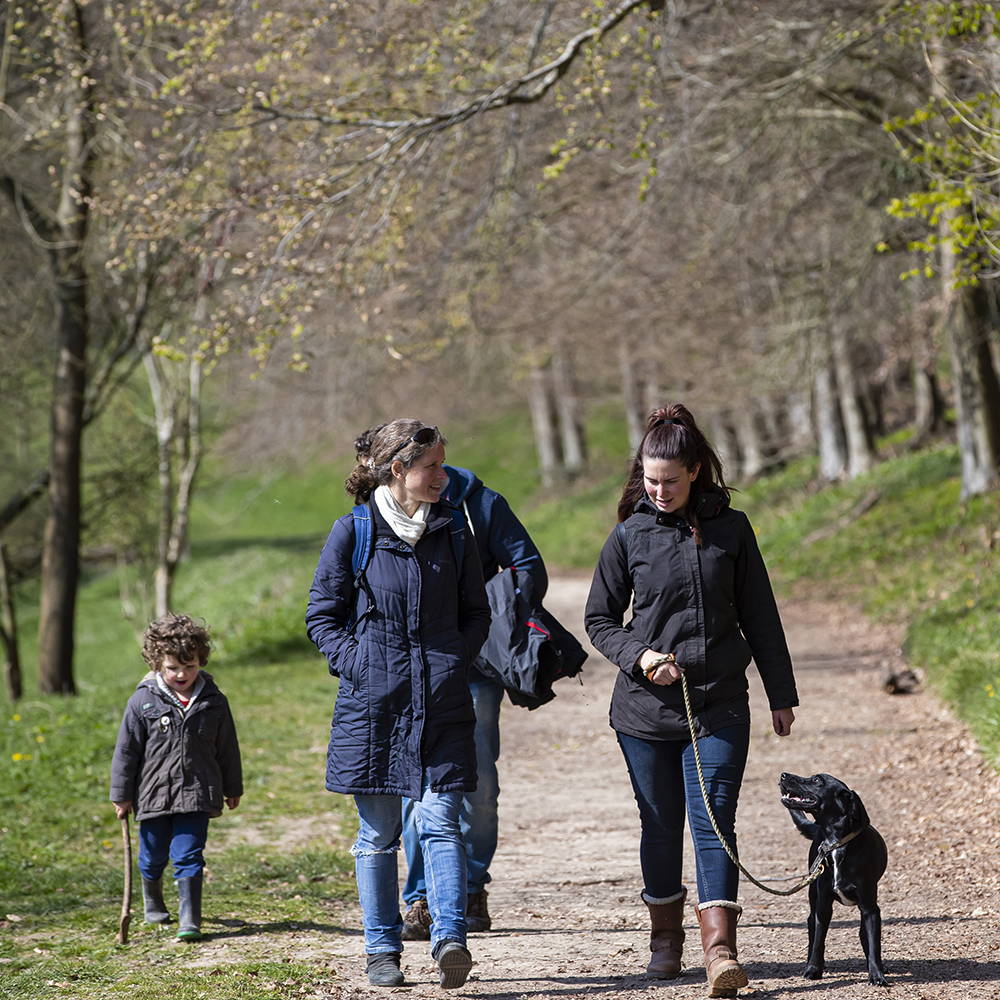 ©National Trust Images/Chris Lacey
Midlands
Longshore, Burbage and the Eastern Moors, Derbyshire
A countryside haven on Sheffield's doorstep, the Peaks have a network of footpaths and bridleways. The Longshaw Estate is a gateway to the Peak District, home to ancient woods, parkland and heather moorland. Walking at Longshaw can be a stroll to the pond, an easy-to-follow waymarked walk or a serious hike. Follow the waymarked walk with arrows from just outside the Longshaw Lodge or download a walk before you set off. Keeping your dog on a lead in the Peak District ensures that wildlife, livestock and other visitors are safe.
Attingham Park, Shropshire
From the moment you enter Attingham's gates, the views open across 200-year-old parkland to the Shropshire hills and the impressive Regency mansion emerges against silhouettes of cedar trees. Cattle graze and fallow deer roam, historic trees cluster in woodland glades, and beautiful stretches of the Severn and Tern can be enjoyed. The many ponds are a haven for wildlife of all sorts, from ducks and swans to otters. Dogs are to be on leads at all times while at Attingham (except for the off-lead area in the Mile Walk paddock).
Clumber Park, Nottinghamshire
Carved out of the ancient forests of Sherwood, Clumber Park is a beautiful expanse of parkland, heath and woods covering more than 3,800 acres. Once the country estate of the Dukes of Newcastle, there are many glimpses of its grand past to explore. Walking routes around the magnificent lake are extra special in winter, especially on misty mornings when fog surrounds the Gothic chapel. Jays and Green Woodpeckers are often spotted searching for bugs on these scenic paths too. Dogs are welcome under close control.
East of England
Ashridge, Hertfordshire
With nearly 5,000 acres of woodland, rolling chalk downland and lush meadows all within close distance of the major London studios, it's no wonder that Ashridge is a big a hit with Hollywood as local dog walkers. Highlights from its extensive filmography include stints as an eerie forest kingdom in Maleficent (2014), and a stretch of snow-covered countryside just outside Paris in Les Misérables (2012). And come winter it's just as easy to recreate these cinematic moments thanks to Jack Frost and a dusting of the white stuff. There are four waymarked trails to choose from as well as a number of downloadable trails. All offering the chance to explore woodland, grassy hills, and stunning views over three counties, which can be picture perfect on a frosty day. Dogs are welcome under close control.
Blickling Estate, Norfolk
Blickling's breathtaking Jacobean mansion and ancient yew hedges sit at the heart of a magnificent garden and historic park in the beautiful Bure meadows. The lake walk at Blickling is particularly atmospheric on a frosty winter's morning, with the reflections and big open Norfolk skies providing plenty of opportunities for budding photographers. For budding birdwatchers, barn owls are regularly seen hunting across the park and groups of tits and finches can be found marauding through the trees and undergrowth, scavenging for morsels of food. Dogs are welcome under close control in park.
Ickworth, Suffolk
An Italianate Palace in the heart of Suffolk with over 1800 acres of parkland, gardens, and brand-new all-weather trail to enjoy, Ickworth is the perfect place to get back to nature. The Monument Walk makes a great winter walk. Explore a mixture of open parkland and woodland glades, and take in the church, Walled Garden, and obelisk monument. For fitness fans and dog lovers alike, take the Trim Trail and try your hand on various fitness objects, ranging from pole climbing to ladder walks and leap frog. Dogs are welcome on short leads (except for Italianate Garden).
©National Trust Images/John Millar
Yorkshire and North East
Souter Lighthouse, Tyne, and Wear
Hooped in red and white and standing proud on the coastline midway between the Tyne and the Wear, Souter Lighthouse is reached by car in less than half an hour from Newcastle, and less than 15 minutes from Sunderland. Once the site of a busy mining community, these cliffs are now home instead to the solitary lighthouse and a whole host of seabirds, like fulmar and cormorant. Walk north and discover The Leas with its wildflower meadows or head South to the Whitburn Coastal Park which is criss-crossed with paths and coastal trails. Dogs are welcome on short leads.
Fountains Abbey and Studley Royal Water Garden, North Yorkshire
The ruins of Fountains Abbey are truly something to behold, especially on a frosty winter's day. Walk down the path from the visitor centre, or along from West Gate carpark and come face to face with some of the oldest abbey ruins in the country. From the abbey, follow the gentle banks of the river skell down to the 18th-century Water Garden, which has been channelled into canals, cascades and tranquil moon ponds. From here, riverside paths lead to the deer park, home to Red, Fallow and Sika deer and ancient trees such as: limes, oaks, and sweet chestnuts. Dogs are welcome on short leads.
Gibside, Tyne and Wear
Gibside is one of a few surviving 18th-century designed landscapes and was fashioned with two things in mind: spectacular views and 'wow' moments. Here, you can escape the hustle and bustle of modern life within 600 acres of gardens, woodland, and countryside – perfect for wildlife spotting. Highlights include a Neo-classical chapel, restored stable block and grand ruin. In winter you may not see signs of Gibside's protected species such as bats and great crested newts, as they're all tucked up for winter, but you'll have a great chance of seeing roe deer, red kites, winter birds and maybe even an otter or a fox! Dogs are welcome on short leads.
North West
Claife Viewing Station and the west shore of Windermere, Lake District
In Windermere, you're right in the heart of the Lakes. The lakeshore path between Wray Castle and Claife Viewing station is a safe, car-free walk with lots of opportunities for pooches to paddle. At the end you will all be rewarded with stunning views across Windermere from the first-floor platform in the Viewing Station. When the viewing station itself was built, its creators put coloured glass in the windows so that visitors could appreciate the views throughout the seasons, no matter when they visited. Light green glass allowed them to see how the scenery looked in spring, for example, with dark blue being reminiscent of moonlight and light blue giving the illusion of winter The hard-waring stone and steel materials of the Viewing Station are super dog-friendly and paws are permitted everywhere. Dogs are welcome under close control.
Quarry Bank, Cheshire
The early Industrial Revolution changed our world forever. At Quarry Bank you can discover a complete industrial community and experience the very different worlds of owner and worker, who lived and worked here side by side. On the estate there are acres of woodland to explore. Follow the meandering path of the river Bollin and cross the folly bridges. Keep a lookout for flashes of electric blue as the kingfishers whizz by. If you're really lucky, you might even be able to catch a rare glimpse of an otter as they slip into the water! Please keep dogs on a lead where advised, particularly through Styal village and if entering the garden.
Buttermere Valley, Lake District
Another favourite of explorer Simon Reeve, a tranquil area of dramatic fells, farms and woodland, encompassing three lakes, Buttermere offers one of the best round-the-lake walks in the Lake District itself. The walk is a relatively easy, level, and the views are stunning as is the beautiful environment all around. The most popular view can be found looking down to the lake towards Fleetwith Pike, which drops in a near-vertical cliff down from the summit towards the infamous Honister Pass of 'Tour of Britain' fame. Take in the lush green fields beside the lake, nestled beneath a natural amphitheatre of black rock where Fleetwith meets Haystacks. Dogs are welcome on leads.
Speke Hall, Liverpool
Barely 8 miles from the Liver Building, Speke Hall is a rare Tudor timber-framed manor house in an unusual setting on the banks of the River Mersey. The Hall is surrounded by restored gardens and protected by a collar of woodland. Take the estate walk and you'll enjoy fine views of the Wirral, North Wales and even Liverpool's city centre skyline. Or head down to the Coastal Reserve for great views of wading birds and a walk up the Bund to see unique glimpses of the Hall through the trees before spring arrives.
Dogs are welcome on short leads in the woodland and on signed estate walks.
Northern Ireland
Divis and the Black Mountain, Co Antrim
On a bright sunny winter's day there's nothing more invigorating than a climb up Divis and the Black Mountain. There's so much to see, both in terms of man-made sites and natural ones: Belfast's famous dockland where the Titanic was built, buzzards and kestrels hovering over the open fields, aeroplanes flying beneath you and then coming in to land at George Best City and Aldergrove International airports. Dogs are welcome on short leads.
Castle Ward, County Down
Strolling through this 820-acre walled demesne takes you along trails that wind their way through atmospheric woodland, parkland and gardens, offering impressive views over Strangford Lough and the surrounding countryside. The quirky 18th-century house, designed as a combination of two completely different styles: gothic on one facade and Palladian on the other and farmyard that doubled up as Game of Thrones' Winterfell add to the charm of the grounds. Dogs are welcome on short leads.
Rowallane Garden, County Down
Carved from the County Down landscape, Rowallane has grown from 19th century beginnings and remains to be a place where you can leave the outside world behind and immerse yourself in nature's beauty. A mix of formal and informal spaces with many unusual vistas and unique plants from across the world. Take a stroll among winter flowering viburnums, mahonia and the fragrant flowers of witch hazel. Also look out for sarcococca; otherwise aptly known as the Christmas Box, with its strong scent. Dogs are welcome on short leads.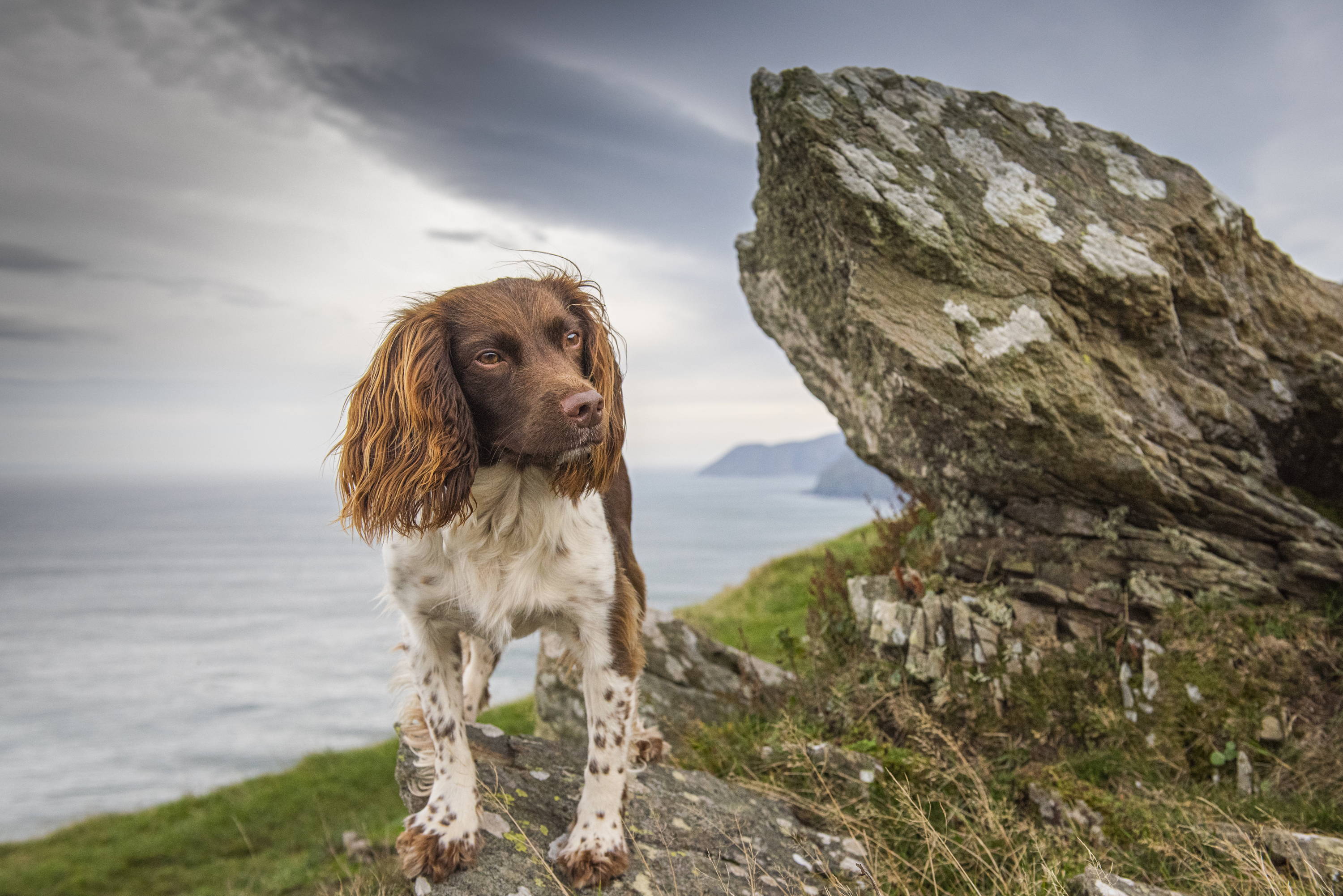 Wales
Stackpole, Pembrokeshire
Stackpole is both a listed designed landscape and an internationally important nature reserve. Footpaths stretch down from the former grand estate Stackpole Court, across dramatic cliffs to some of the most beautiful coastline in the world, including Broad Haven South, Barafundle Bay and Stackpole Quay. The famous Bosherston Lakes were created 200 years ago to provide a backdrop to Stackpole Court, in winter they welcome wildfowl - with the likes of goosander (look out of the females with their vibrant ginger heads) and the speckled grey gadwall making an appearance. Dogs are welcome under close control.
Erddig, Wrexham
For over 300 years visitors have been welcomed to explore the parkland at Erddig. The Yorke family did not want to hide their beautiful estate away, understanding the value of nature to the health and wellbeing of their local community. The Erddig Clywedog riverside walk is a short circular walk taking you through the parkland to the historic village of Felin Puleston. The route includes the unusual Cup and Saucer waterfall. Designed by landscape gardener William Emes it works by gathering water in a shallow circular stone basin with a cylindrical waterfall at its centre, the water falls through this cascade and then emerges from a tunnel several yards downstream. Dogs are welcome on short lead in parkland.
Plas Newydd House and Garden, Anglesey
Perfectly positioned on the shore of the Menai Strait with spectacular views of Snowdonia and Anglesey coastline, Plas Newydd is surrounded by Grade-I listed gardens. At Plas Newydd dogs are free to visit almost all areas of the gardens and grounds, including the areas outside the 300-year-old mansion, the Rhododendron Garden and Camellia Dell. The only area off limits to canine companions is the house itself and the Terraced Garden, where the precise planting demands that it is kept a paw free zone. Dogs are welcome on short leads (excluding Terraced Garden).
N.B. Some National Trust properties may require or advise that admission is booked in advance to guarantee entry – check the relevant property web pages for the latest information.
Different restrictions for dog walking apply at National Trust places and at different times of year – check the relevant property web pages for the latest information.
Top tips for a winter walk
During the winter months, it's important to get as much natural sunlight as possible - it helps reduce the feelings of seasonal affective disorder for us humans, as well as keeping our dog's natural circadian rhythms in order.
Much like us humans pre-exercise, it's always important to let your dog warm up its muscles at the start of a walk, but never more so than in cold weather.
When heading out for longer daytime walks remember always to take water for your dog, even on colder days. Popping some towels or a drying coat into your car is a good way to ensure your dog doesn't get cold on the journey home.
With reduced light in winter a torch not only allows you to be seen but also means you can safely see in front of you, avoiding trip hazards. Attaching a light to your dog's collar or harness helps too as does wearing bright clothing.
Where possible, if it's going to be an exceptionally muddy walk, then pop your dog into a fleece or coat to protect them from getting coated in mud.
Avoid using outside taps to hose off your dog as in colder weather the water temperature can really drop. It's also advisable to prevent your dog from swimming in water on bitterly cold days, as this can cause shock or hypothermia.
If you need to use your bath to wash your dog, make sure there's something in the base for their paws to grip onto, such as a bathmat and add some tasty treats to make the experience positive and fun.
To find out more about walks at the National Trust click here